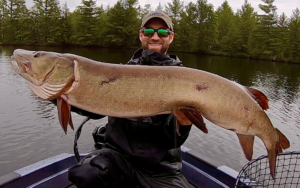 My name is Chas Martin and I have been fishing the Three Lakes and Eagle River area of Wisconsin for my entire life! I have a decade of guiding experience and I am looking forward to having the opportunity to share this knowledge with you! In addition to running my guiding operation I am also a videographer for the award-winning TV show, "Fishing with Joe Bucher."
As a high school science teacher I truly enjoy the art of teaching and it has shaped the way I approach guiding. My goal is for you to walk away with a firm understanding of the techniques we applied during our trip and the confidence to go out on your own and use these skills to be successful.
For me catching a giant musky is one of life's greatest experiences and I have dedicated the last decade of my life to better understanding these elusive predators. I can find action for the beginning angler who wants to catch their first musky or I can take you on a trophy hunt in search of a true monster. While we are on the water, I will show you the latest techniques and tips that will help you become a more successful angler.
Knowledge is Power, and the more you are able to understand the musky's seasonal behavior and tendencies, the more you will be putting in the boat. I have a true passion for fishing and if you're like me, it doesn't get any better than a big musky following your topwater in only to hit it right by the side of the boat.
Giant 51 Inch Musky in Northern Wisconsin!
Come Experience Trophy Musky, Walleye, Northern Pike, Largemouth and
Smallmouth Bass Fishing at its Finest!